Thunder Bay Bed Bug Control & Removal
Bed bugs are the modern boogeyman for property owners and frequent flyers as well. These pests can live just about anywhere and have a one track mind. All that bed bugs really want is a meal but it comes at your expense. If you find that you have become a chew toy for unwanted visitors, our Thunder Bay bed bug control and removal service can help you out.
The Problem With Bed Bugs
Bed Bugs have been taking over Canadian properties left right and centre. It can be hard to keep track of registries as they fill up with notes for every hotel, restaurant and theatre in town. If you are one of the unfortunate property owners who find themselves facing off against bed bugs, there is only one sure-fire way to get rid of them and that is with professional help. As a species, bed bugs are tough! These pests are sneaky, grabbing on to passers-by and sticking around for the ride while you carry them inside your home or business. Once these hitchhikers make their way inside, they get cozy in every nook and cranny they can. You might track them down in the seams along your mattresses but even with them gone, there are more hidden around. Funiture, rugs, clothing, suitcases, you name it, these pests call it home.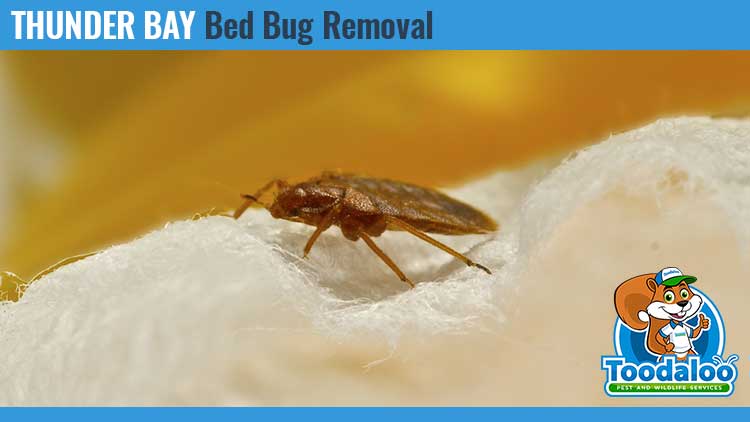 Thunder Bay Bed Bug Control & Removal: Getting The Bugs Out
If you happen to catch an infestation early-on, consider yourself blessed. In the early stages, bed bugs can be handled in a few different ways. In fact, there are several methods to treating your bed bug infestations. Non-chemical approaches are available, as well, all combined into customizable packages, made to fit your space. With several package options for you to choose from, your home or business can be bug free in no-time with the help of our Thunder Bay bed bug removal.
Book online or by phone to kick the pests out with our Thunder Bay bed bug removal.
Additional Pest Management services we offer in Thunder Bay
| Wasp | Termite | Spider | Pavement Ant | Carpenter Ant | Flea | Pigeon | Rat | Mouse | Silverfish | Cochroach